BINOCULAR MICRO-STRUCTURED LIGHT
THE LATEST UPGRADED HARDWARE
The core hardware of POP2 adopts the principle of binocular and Micro-structured light. With the help of the proprietary micro projecting chip, POP2 ensures that the fast acquired 3D point cloud data has high Precision, and the highest single-frame Precision can reach 0.05mm.
HIGH PRECISION
UP TO 0.05MM, 0.15MM POINT DISTANCE
With projector and IR cameras,an improved high-precision calibration method ensures that POP 2 meets 0.05mm professional-grade precision and a 3D point cloud data of 0.15mm.This allows POP 2 to capture 3D models with more details and ensure better dimensional Precision.
PERFECT SCANNING FLUENCY
10HZ FPS, 6DOF GYROSCOPE
The 10 fps scanning frame rate and 6 Dof Gyroscope allow POP 2 to enhance its operational flow and shape, marker point, and color feature point cloud stitching.
FANTASTICS COLOR EFFECT
GLOBAL EXPOSURE RGB SENSORS
Through the high-resolution global exposure sensor, synchronization with the depth camera by hardware triggering, POP 2 can directly generate vivid 3D models for 3D animation, color 3D printing, etc. That can be used directly AR and VR!
2-IN-1 VERSATILITY
HANDHELD AND TURNTABLE SCANNING
Say goodbye to separate handheld and turntable scanning devices. POP 2 is designed to work as a handheld and turntable scanner.
EASY TO USE
COMPATIBLE WITH DESIGN SOFTWARE
Conventional 3D scanners are heavy, cumbersome, power-demanding, and permanently entangled with several cables. In short, they are not handy, providing a poor user experience.
POP 2 only has one cable to charge the scanner, and that can be directly connected to a smartphone, tablet, or laptop for streamlined 3D scanning,greatly optimizing the user experience.
EASY TO CARRY
COMPACT & LIGHTWEIGHT
POP 2 is compact and portable, only 195g, and come with a specific carrying case that can hold POP 2 and all the accessories, you can take POP 2 to wherever you want.
EASY TO POWER
POP2 only requires one USB cable to power the scanner,and can be directly connected to laptop or phone for streamlined 3D scanning,This is an efficient device with power-saving technology. Equipped with the 5000 mAh Power Bank, you can easily scan with your phone for a long time.
If you're a gadget and high-tech enthusiast in general, Revopoint's latest 3D scanner is definitely for you. However, if you're an active 3D printing creator, a VR/AR model maker, or if your creative work involves using reverse design, then this multi-functional 3D scanner will make a world of difference in your creations.  
Product Specifications
| | |
| --- | --- |
| Product Name | 3D Scanner |
| Product Model | POP 2 |
| Technology | Dual camera infrared structured light |
| CPU | Dual core ARM Cortex-A7 |
| Single capture Precision | Up to 0.05mm |
| Single capture range | 210mm x 130mm |
| Working distance | 150 ~ 400 mm |
| Minimum scan volume | 20×20×20 (mm) |
| Scan speed | Up to 10 fps |
| Light source | 1 class infrared Laser 1 |
| Alignment | Feature, marker and color |
| Press button | Yes |
| Output format | PLY, OBJ, STL |
| Texture scan | Yes |
| Special object scanning | For the transparent and highly reflective objects, please use scanning spray powder. |
| Outdoor scanning | The cover is needed to avoid interference of intense light. |
| Scanner weight | 195g |
| Dimensions | 154.6 x 38.2x 25.6 (mm) |
| Printable data output | Able to export 3D model directly to 3D printing |
| Required computer configurations | Windows 8\10, 64-bit, Android, iOS, MAC |
| Wi-Fi & Bluetooth | 2.4GHz |
| Connector Type | Micro USB |
| Note | *The aforesaid Precision is acquired in standard lab environment, which might vary subject to actual operating environment. |
POP 2 reviewed by our users:
What are the differences between POP and POP 2 3D Scanner?
POP 2 uses the latest upgraded hardware, which can get higher Precision and details; fluently scanning with 10 FPS; and better color effect with a global exposure RGB camera.
What are the software to use POP 2?
The software are Handy Scan (scanning software) and Handy Studio (Post-processing software) that are free to use.
What is the Precision of POP 2 3D Scanner?
Up to 0.05mm Precision and 0.15 mm points distance.
What is the scanning speed?
The scanning speed of POP 2 can reach 10 FPS, equally 3 million points/s.
It can realize higher-speed data acquisition and embedded computing, outputting millions of high-Precision data points to your laptop or smartphone.
What is special about the new camera of POP 2?
The RGB camera of POP 2 is 2 Mage Pixel. POP 2 adopts an advanced chip to
reach a better texture result.
What is the focal length of POP 2?
The focal length of POP 2 is 150-400mm.
What is the minimum size of an object that POP 2 can scan?
The minimum scanning dimension we recommended for POP 2 is 20mm*20mm*20mm, and if you want to scan smaller objects, it would have more miss track warnings. Scanning objects less than 20 x 20x20mm will not affect the details because the camera Precision is fixed. Also, putting the smaller object on a bigger object has no change in object dimension, it won't help get any change. But if you are interested in scanning objects less than 20 x 20x20mm, you can have a try.
Does it have a high requirement for computer ?
Thanks to the high embedded calculating performance, the standard PC can work with POP 2 3D scanner easily.
Can the scanned model be modified with the design software?
Yes, the scanned model could be exported in OBJ format, which is compatible to design software, such as Autodesk CAD, Maya, Rhino, Zbrush, fusion 360 etc.
Can we download the scanned models?
You can download the 3D models in our POP 2 page and video from the Sketchfab.
Can we directly print the scanned models?
Yes, the stl file can be directly imported to the cutting software.
Can the POP 2 scan black object?
Yes. POP 2 can scan black object. However, scanning highly reflective black color will be challenging.
Can I use POP 2 to scan something outdoor?
Yes, it's recommended you to avoid the intense sunlight when scanning something outdoors.
Are there any objects that POP 2 can not scan?
Transparent or highly reflective objects are not ideal targets for most 3D scanners, including POP 2.
Can't be beat in the price range!
First off, learn it! Many newbies to this tool are quick to blame the hardware or even the software. Even a $10,000 scanner requires some knowledge and practice. It didn't take me much time at all to get it scanning perfectly for my needs. Lighting and learning when to use markers or even spray on your scanned objects, is key. Play with the settings, experiment. You'll get it, and you will love it! I'm still learning and while I could easily blame the scanner, I learned from Yoda, and practiced patience. I got good results every time I thought I was beat! And the company is always listening. Improving on the software, and future editions as well so you know you're backed up. I will continue to purchase Revopoint for as long as my needs require scanning!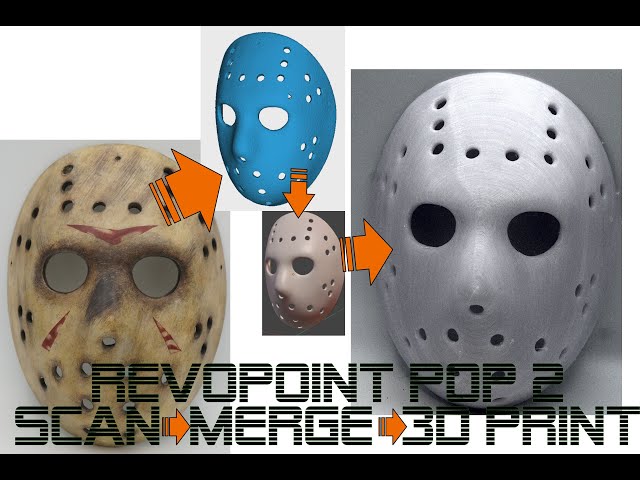 Pop 2 scans better than I thought it would
I scanned some toy castle floors, the first time with the Pop, the new set with the Pop2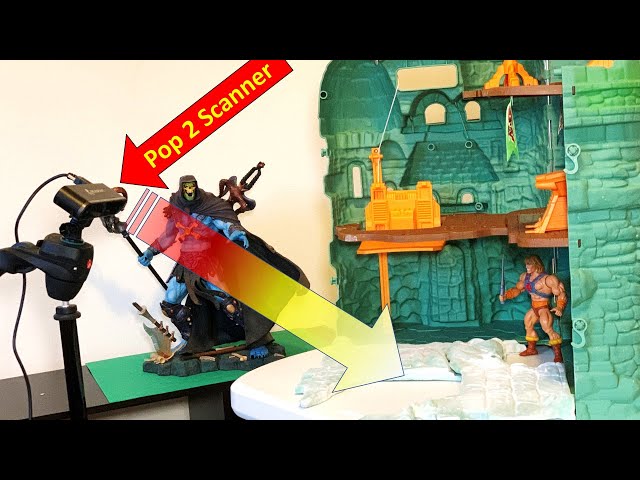 Latest RevoPOP2 is Fantastic!!!
The level of detail is great, but the overall user experience with the PC software is top notch excellent. Once we get the calibration tool, it will be even better.
Very satisfied with my purchase!!!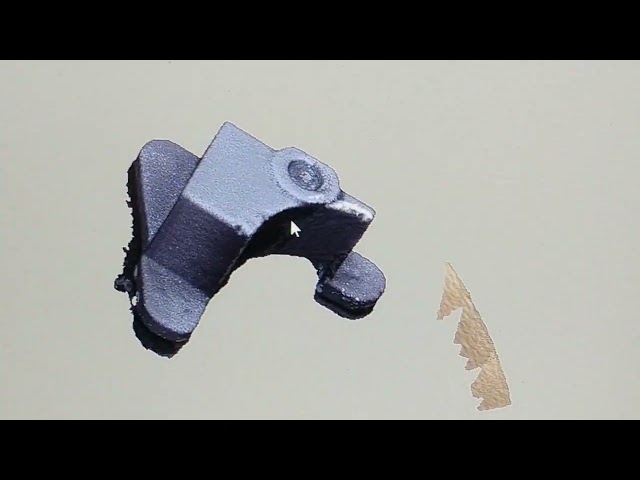 Quality and high accuracy scanning
I received the scanner and began to use it. The scan right out of the box was very good but as the instructions state you can achieve better results after a calibration. I ran the calibration and achieve the same accuracy as advertised and it did improve the scanning detail quality.