Industrial-Grade Blue Light 3D Scanner for Pros
The Revopoint MINI 3D scanner can output models with a point distance of up to 0.05mm and a single-frame precision of up to 0.02mm. All of this is achieved with the industrial-level professional calibration tools. Whether you need to 3D scan jewelry, coins, industrial spare parts, and other objects, if your goal is to achieve a high-precision 3D model, the MINI 3D scanner is your best choice.
3D Animation Production and Modeling
MINI can quickly scan objects, resulting in high-quality models and significantly improving game animation models' design and production efficiency. This reduces the amount of time spent on modeling by more than ten times.
Reverse Engineering
MINI can quickly 3D scan industrial spare parts with complex shapes and surfaces and output the models with a point distance of up to 0.05mm. Using MINI enables you to quickly and accurately reconstruct CAD models consistent with the real-life objects and realize the repair, transformation, and innovative design.
Jewelry Design
By accurately capturing the details of the jewelry, the MINI allows for the efficient redesign, engraving, and customization of jewelry, placing professional-level design capabilities and techniques in your hands with ease.
Medical Application
MINI helps to create customized healthcare solutions that can be used to perform pre-and post-operation analysis and gather data needed for procedures such as plastic and restorative surgery.
Industrial Blue Light
The MINI projects ultra-high-resolution structured light and has a strong ability to resist ambient light. The class 1 blue light used in the MINI scanner is harmless to the human body and can be scanned directly on the skin [2] making it safe and user-friendly for all possible applications.
Amazingly High Precision of 0.02mm
The MINI's industrial-grade laser scanner precision of 0.02mm allows even the tiniest parts to be accurately scanned and presented. Its performance rivals professional dental cast scanners making possible the skilled use of the MINI for dental cast making by professionals.
Incredible Point Distance of 0.05mm
Revopoint MINI uses upgraded projection technology to capture the data of objects such as a 3D engine cylinder in some ten minutes or less. The output model has a high density of point clouds with a 0.05mm point distance.
10fps Scan Speed & Versatile Scanning Modes
Revopoint MINI has a scanning speed of up to 10 frames per second.MINI can directly output 3D data,bringing you a smooth and stable scanning experience.It is designed to work as a handheld and turntable 3D scanner for multi-scenarios scanning. MINI is an ideal device that can scan objects with various shapes for all kinds of 3D modeling needs.
Handheld Stabilizer
The S1 Handheld Stabilizer is equipped with a built-in high-precision gyroscope and stabilization device, and it can effectively eliminate the problem of poor point cloud precision and track loss. This allows for smooth 3D scanning without stalling.
Dual-axis Turntable
The dual-axis turntable A230 adopts the design of 360° horizontal, ±30° vertical, and a controlled rotation path for fast point cloud data acquisition. It solves previous issues of incomplete data acquisition or holes caused by improper operations.
Scanning Spray
AESUB blue series scanning spray can create a non-reflective surface on objects when scanning to increase the efficiency during scans. It works by providing a thin and homogeneous coating that self-vanishes within 4 hours, meaning that there is no need for post-scan cleaning. And the spray does not contain pigments or cause damage to sensitive scanning devices, laboratories, or production sites.
Easy-to-use Software
Revopoint has developed three powerful software for obtaining an even more perfect model: the scanning software Revo Scan, the professional model editing software Revo Studio, and the calibration software Revo Calibration.
Compact & Portable
MINI , weighing only 160g  requires only one cable for charging and data transfer. Hassle-free, there is no need for preliminary preparation. You can connect the MINI to a computer, smartphone, or power bank and carry out your scanning work anywhere, anytime.
Product Specifications
Product Name
Revopoint 3D Scanner

Press button
Yes
Product Model
MINI
Output format
PLY, OBJ, STL
Technology
Dual camera blue light
Texture scan
Yes
Single-frame Precision[1]

Up to 0.02 mm

Special object scanning
For dark, highly reflective and/or transparent objects, it is recommended to use scanning spray.

Single-frame Accuracy[2]

Up to 0.05 mm

Scanning
Environment
Indoor
Single capture range

64 x 118 mm

Scanner weight
160 g
Working distance
100~200 mm

Dimensions
120×38.5×25 mm
Minimum scan volume
10×10×10 mm

Printable data output
Direct export to 3D printing software application;

Point Distance

Up to 0.05 mm

Required computer configurations

Windows 8\10\11 (64-bit), Android, iOS, MAC

Scan speed
Up to 10 fps
Wi-Fi

5 GHz


Light Source
Class 1 Blue Light

Connector Type

Micro-B – Type-A USB


Alignment
Feature, Marker




Note

*The accuracy above is acquired in a standard lab environment. Individual scan accuracy and results may vary based on a number of factors, including environmental conditions, type of object(s) being scanned, scanner calibration, and proper software application settings.

* Windows 7 is not supported.
1. What is the accuracy of the MINI 3D Scanner?
The single-frame precision of MINI is up to 0.02mm.
2. What is the scanning speed?
The scanning speed of MINI can reach 10 FPS.
3. What are the differences between POP 2 and MINI Scanner?
MINI and POP 2 target different scanning requirements with different expertise.
Application Scenarios: POP 2 meets most requirements of makers, DIY lovers, and designers with more usage scenarios, and MINI is more for professional applications like reverse engineering, quality control, 3D measurements, jewelry design, healthcare applications, and more.
Recommend Scan Volume:
MINI: 10 x10 x10 (mm) ~ 500 x 500 x 500 (mm).
POP 2: 20 x 20 x 20 (mm) ~ 3 x 3 x 3 (m).
* You can scan the objects with a larger size, but it needs multiple scans and post-process, requiring a high-end laptop and scanning skills.
Light Source: the MINI uses a blue light source, and it requires an indoor scanning environment to ensure precision. If you are looking for a face/body modeling solution, we recommend you choose the POP 2.
4. Can we directly print the scanned models?
Yes, the STL. file can be directly imported to the slicer software.
5. Can the scanned model be modified with the design software?
Yes, the model scanned by MINI could be exported in OBJ. format, compatible with most design software, such as Autodesk CAD, Maya, Rhino, Zbrush, fusion 360, etc.
6. Does it have a high requirement for computers?
No. The office PCs can work with a MINI scanner. However, considering the processing time, it is recommended that the computer with a high-performance CPU and larger RAM (16GB and above).
7. Are there any objects that MINI cannot scan?
For transparent and highly reflective objects, you need to use scan spray on them.
For the objects larger than 500 x 500 x 500 (mm), multiple scans and post-processing is needed.
8. Can I use MINI to scan something outdoor?
Sorry. With the blue light technology, outdoor scanning is not recommended. However, the MINI works when the sun goes down.
9. What is the minimum size of an object that MINI can scan?
The minimum scanning dimension we recommended for MINI is 10 x10 x10 (mm).
10. What is the software coming with MINI?
The scan software - Revo Scan;
The model editing software – Revo Studio;
The calibration software – Revo Calibration.
Serious equipment at entry level price
I've just gotten hold of the MINI and did my first scans recently. Is it a plug-and-play scanner? No. But it is as close as one can get to a plug-and-play with this type of resolving power. I purchased the MINI after I wasn't getting the results I wanted from 3D photogrammetry. I needed something that was able to capture sub-millimeter detail efficiently, accurately, and quickly without breaking the bank. I am digitizing a large corpus of stone stamp seals created in late antique Western Asia, ranging in size from a few millimeters in diameter to a few centimeters, so I needed a scanner that could do both incredibly small objects just as accurately as coin-sized objects.
After doing some reading on the Revopoint forum on scanning best practices I plugged my MINI in for the first time and was able to get a decent scan of an object almost right away. I still have a lot of learning to do, and the learning curve is quite steep, but I know that after I use the MINI for a few weeks, getting to know the intricacies of 3D scanning with blue light, I will be able to achieve the results I am after. I will update this review with some more images and detailed review of the MINI after I can utilize it to its full potential.
For now, this scanner seriously deserves a 5/5. Even with my clumsy, inexperienced use of the MINI I was able to obtain decent results. I can't wait to see what it will be like when I can use the scanner to its full potential.
(attached is a photograph of my current scanning station and a video of the scanner in action)
Decent Performance for this price point
Consumer Priced- almost Professional Grade
Scanners available Period.
I am able to confirm very accurate scans. I am currently using this scanner to reverse engineer unavailable automotive parts.
I have several scanners to compare this two and it's got insanely good details.. but limited for the size of scans it can do. As long as you keep your expectations for small items you will be fine. As for the engine block scan in the advertisement…. Sorry not happening, unless Revopoint can do a live demo.. I have tried and I can with my CR-Lizard but not my mini.
Other than tracking issues the scanner is very accurate and just takes time and patience to get decent results.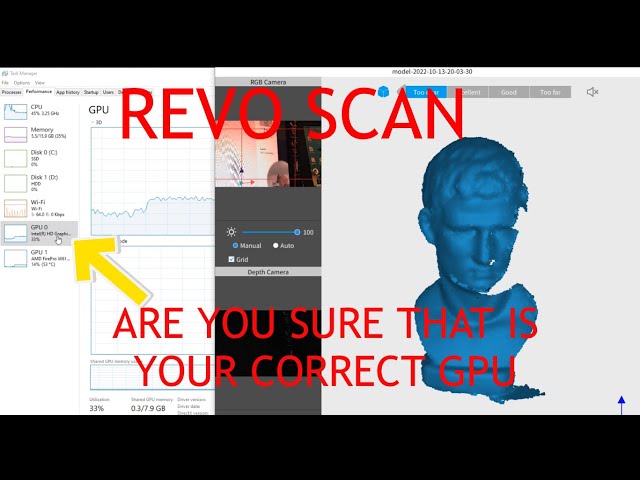 Very good Price/Quality Scanner
I am pleased with the scanner.
But as any consumer hand-held scanner it requires skill and a good computer to properly get the best out of it.
I think that it is important to find ways of improving user skills, something like a step-by-step guide on how to build-up experience using the scanner, a structured video curse that help user build-up the skill to get the best out of the scanner.
Also.... you might work on improving way to make it more user friendly and reduce the skill level required to properly use it. for example... when producing the point cloud it some times does not attach properly and overlaps instead during the scanning, and need to be fused. it would be awesome that the pointcloud is fused in tandem with the scanning process. sometimes if you was not careful during the scann the pointcloud does not fuse properly. alll this issues I exepct in the future will become more seamless as computing power becomes stronger and cheaper.
VERY NICE 3D SCANNER
a scanner with easy use and user friendly
Plug and Play use
Very easy to us. Installation was fast and I was scanning the little statue seconds after installation.
Still need to calibrate and find my perfect distance but I can already see myself loving this.